Crediting Controversy: Olivia Rodrigo's Sour Album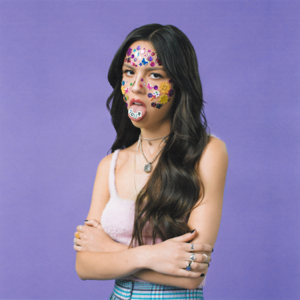 Olivia Rodrigo's record breaking debut album 'SOUR' gave her fame and put her name on the charts. Many songs are believed to be inspired by her supposed break up with her co-star, Joshua Bassett, however many fans can't help but think the songs were heavily inspired and influenced by the work of other artists who weren't given song credits during the initial release of the album and were only given credits after criticism from fans.
I believe that Olivia Rodrigo should have given credit to all the artists who inspired and heavily influenced her songs. 
One of the most prominent artists that she credited at the initial album release was Taylor Swift. It is widely known  amongst fans that Rodrigo is a huge fan of Swift. Swift was credited in the song "1 Step Forward, 3 Steps Back". According to Billboard magazine, Swift was credited in the song "Déjà vu" two months after the album's initial release. 
However it was Rodrigo's decision to credit Paramore singer Hayley Williams and ex-guitarist of the band, Josh Farro, that made headlines after constant comparison between "Good 4 U" and Paramore's "Misery Business". While the songs don't share the same lyrics they share the same concept and sound almost identical to one another. 
Rodrigo's "Good 4 U" is the perfect heartbreak anthem that demonstrates the anger and frustration that a teenage girl goes through after a heartbreak. Rodrigo sings of her seeing her ex lover with a new girl and being constantly on the watch for his every move. 
"Misery Business", by Paramore discusses the revenge that a girl takes on her ex lover and his new partner. Williams sings of seeing her ex with a new girl and waiting cautiously for their breakup in order to get revenge on him.
According to Variety, the credit that was given to Williams and Farro is an interpolation, which means that a portion of a melody is used in a song instead of just being sampled. 
As an Olivia Rodrigo fan, I personally love her work and could listen to her songs all day on repeat, however I believe that she should credit artists whom she uses similar patterns as in other songs in order to give proper credit to the other artists. While I disagree with the way credits were given in 'SOUR', I hope Olivia Rodrigo will release new music soon and will credit all artists in her next album.