Eclipse-A-Palooza is a blast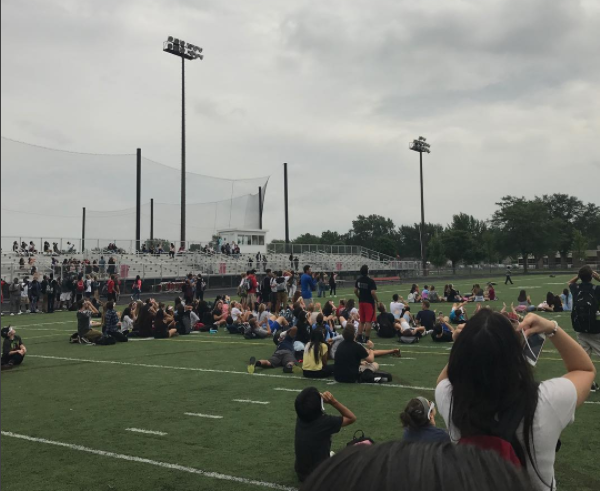 PALATINE— On August 21, 2017 a solar eclipse was visible from every location in North America. In celebration of the eclipse, Palatine High School will be hosting the very first Eclipse-A-Palooza, hosted by the science department.
"I think it's pretty cool," Tyrus Angeles, PHS senior said. "It's a once or twice experience, and everyone is kind of paying attention, but it's cool to see everyone out here trying to see everything out here."
The Eclipse-A-Palooza was at the Chic Anderson football stadium, during all lunch periods: 3, 4, 5 and 6, as well as the first half of 7. Many students, freshmen through seniors, went to partake in the palooza. Palatine High School Astronomy teacher, Sean Fisher-Rohde along with Principal Gary Steiger, and Hoffman Estates High School Tyler Michie planned the event for all students to enjoy.
"Teachers were encouraged to take their classes outside during any time of the eclipse," Fisher-Rohde said. "They ok their students out to the stadium or just around the school grounds."
In addition to being able to see the total eclipse outside at the stadium, Charles Filipek played music for the event and made announcements.
The eclipse lasted approximately three hours and was at its peak at around 1:20 pm. The last time there was a solar eclipse that traveled through the United States was over 100 years ago.