Palatine poms prepare for competitive dance season
Hang on for a minute...we're trying to find some more stories you might like.
At 6 a.m. this past Saturday, 15 groggy Palatine High School dancers arrived at school to start the long competition day ahead, wearing their signature cabin socks, crocs, and matching team tanks.
They'd only left the school a mere nine hours prior, having just previewed their routine at the boys varsity basketball game, but not a single girl was complaining.
Since July, they'd been working on technique for this dance. Hours every week, before and after their academic classes, were dedicated to the fine-tuning of this performance— and it was only 2 minutes and 7 seconds long.
8 hours and many granola bars and cans of hairspray later, the clan of purple-lipped, sequin covered, and hair slicked dancers took the stage at Dwight D. Eisenhower High School, in Blue Island, Illinois. They were cheered on by parents and friends as they performed their 2017-2018 routine, "Clap Snap."
"We chose Jazz this year because it is a style of dance we haven't tried yet" Ashley Mitchell, Palatine's varsity and competition poms coach, said. "Last year competition did a pom; the year before that competition did a lyrical. It was time for a change and to challenge the team as dancers."
The dance was choreographed by Erin Fleck, a professional dance instructor from Soul to Soul dance.
"Honestly, finding Erin was a total fluke!" Mitchell said. "I was calling around frantically to find a choreographer because the resources that were used last year, were all getting surgery, on vacation, or not choreographing anymore. I called Soul 2 Sole dance and they redirected me to their jazz choreographer Erin. When she came in she BLEW ME AWAY! She is very talented and works well with the team. Working with 16 high school teenage girls isn't the easiest thing to do."
As for the costumes? Well there's no shortage of sequins, which is true to Pirate tradition. Last year, the team won a special judges award for "Most Sparkly Costume". This year they stuck with the glittery theme, but changed the style completely.
"Our costumes are a perfect mix between sassy and girly!" Leah Daly, a sophomore on the team said. "The sequins all over the top half make it super fun and the fishnets on the bottom half even it all out. I'm pretty positive that everyone on the team loves them and there is nothing more we would want!"
But don't be misled, Palatine Poms is about a lot more than just sparkles and spins. The tight-knit relationship the girls have is what makes their performance so cohesive and unified. Even the newest members of the team feel right at home with this group of dancers.
"I never really knew what comp was about. I showed up to tryouts completely oblivious to the program, and the amount of support I got and friendships I made just that day is unbelievable. In the short time I've been doing competition poms it's been the best time ever" Mandy Logan, sophomore on Palatine's competition team, said.
The girls don't take all the credit either. Perhaps the most important member of the team as captain, Megan McCormick, is what keeps them on their toes, no pun intended.
"This dance is my favorite… I have performed because it pushes us as a team to our limits… I love being captain of this team because I love improving as a leader, and … [all the girls] on the team [are]… my best friends".
In case you're feeling intrigued, the Palatine Competitive Dance Team is inviting you and anyone who's interested to the Palatine Dance Invite on January 13, 2017. There will performances from teams across Illinois, including special performances from Palatine's very own Varsity Color Guard and Guy Poms.
"One of my favorite things about being able to host our Palatine Invite is all of our exhibition performances," Erin McCormick, captain of the Varsity Poms Team, said.
"One of them being guy poms, where senior guys at PHS are able to show off all of their hidden dance skills in a silly and let-loose routine meant to make the audience smile, with a few surprises along the way."
Guy Poms will be performing to "Sexy Back" by Justin Timberlake, "Gasolina" by Daddy Yankee, and "I Want You Back" by The Jackson Five, just to name a few songs in their routine. Don't miss a chance to see these hysterical dancers and more performances by groups from Palatine High School and all around Illinois on January 13th.

About the Writer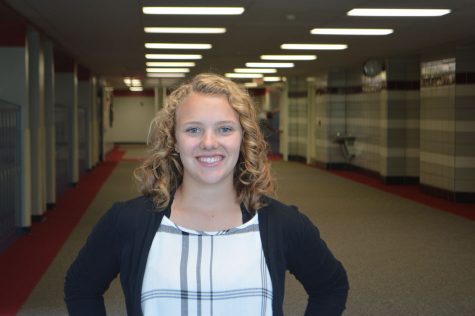 Nataly Panczyk, A&E Editor
Nataly Panczyk is currently a junior at Palatine High School. She is involved in many activities in addition to Cutlass including Pirates and Politics,...