The Lobster takes a new twist on love
Hang on for a minute...we're trying to find some more stories you might like.
The Lobster is a hilariously flat and bleak film directed by Yorgos Lanthimos that explores love through society's eyes. It's premise, that single people have just 45 days to find love or be turned into an animal, is so ridiculous that it just rings true.
The film uses satire to highlight the problems with the way our society treats relationships and places undue significance on them. The dull affect of all of the characters allows for a bluntness that heightens the humor, while amplifying the uncanny horror that is central to the The Lobster.
At the very beginning of the film, the main and only named character, David (Colin Farrell, in darkly comedic and charming performance), is left by his wife and sent to The Hotel. There, he has a limited amount of time to find his mate, and he can only increase his time by hunting runaway singles, to be turned into animals.
He explains that, if he fails to fall in love, he would like to be turned into a lobster. He explains that lobsters have a long lifespan and remain fertile for their entire life, revealing what he and that society value. At this point, we don't understand how this world functions, but to David, this is all normal.
We are slowly introduced to the rules as "guests" at The Hotel introduce themselves. There's the Limping Man (Ben Whishaw), the Lisping Man (John C. Reilly), and the Nosebleed Woman (Jessica Barden).
Every character, besides David who is short sighted, is distinguished only by their "identifying characteristics" and must find a partner that shares theirs. This pointed and comically on-the-nose interpretation of compatibility in online dating leads to much of the conflict in the film.
"
During the second half of the film, Lanthimos turns its premise on its head. Neither couples nor singles are safe from the harsh examination of The Lobster."
The Limping Man smashes his nose until it bleeds, in order to couple with the Nosebleed Woman. When we see him inflict this pain on himself, we feel it and want nothing more than for it to end, but he sees singledom as a infinitely worse than wounding himself on a daily basis, for a woman he doesn't even love.
David pretends to be heartless in order to couple with a cruel woman and avoid being turned into a lobster. This leads to one of the most brutally shocking moments in the film. While the imagery is horrific, it is presented in an intentionally blunt manner, in line with the presentation of the entire film.
The result of his failed attempt at a relationship, leads David to run away from The Hotel, into the forest. In the forest, he runs into a group of "Loners" who harshly punish any forms of romance.
During the second half of the film, Lanthimos turns its premise on its head. Neither couples nor singles are safe from the harsh examination of The Lobster. Among the Loners, David begins to fall in love with a Short Sighted Woman. We actively root for their relationship to flourish, but Lanthimos effectively sows seeds of doubt, as to whether their relationship is healthy or legitimate.
The Lobster forces us to examine our own beliefs about love and relationships. We are led to believe in notions of what love is, but Lanthimos makes us look within ourselves and examine the superficial nature of what we believe a relationship should be.
These deeply disturbing messages about how twisted our societal norms and understandings of romance are, are packaged in a frankly hilarious story about a, near emotionless, product of our culture, that must navigate a series of satirically exaggerated circumstances.
The Lobster is easily one of the most original recent films; inverts the idea of a rom-com by employing bleak, dark comedy to tell a story of romance that is a truly unique criticism of what it has devolved into.

About the Writer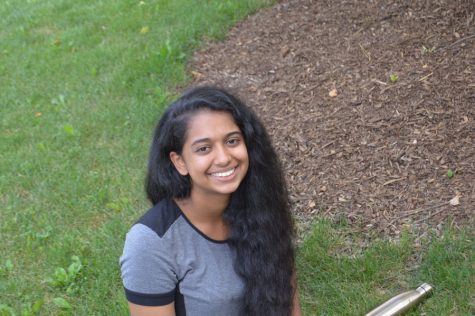 Anusha Jayaprakash, Reporter
Anusha Jayaprakash is a wide variety of things. Anusha is searching for a life out of the ordinary and wishes to experience the world and get out of the...