"To All the Boys I've Loved Before" is high school romance at its finest
Hang on for a minute...we're trying to find some more stories you might like.
Lara wrote a total of five hand written notes, one for each of her past "crushes." Each of Lara Jean's secrets were kept to herself in a tiny blue box, and she intended for nobody to ever find them. This worked well until Kitty, Lara's younger sister, got ahold of them and "accidentally" sent them to their rightful owners. This was a tragedy in the making, for Lara had no idea they were delivered until the boys they concerned began re-entering into her life.
Jenny Han's take on a teenager's worst nightmare was perfectly summed up in the novel "To All the Boys I've Loved Before," which was created into a movie in early August 2018. The series consisted of three books, "To All The Boys I've Loved Before," "P.S I Still Love You," and ​"Always and Forever Lara Jean."
​This story has a rollercoaster of emotions, and effortlessly translates it's message about self-confidence, bringing a family together, and honesty.
Prior to her secrets being leaked, all of Lara's emotions were kept inside, and now she was exposed to the world. Within Lara's family, she lived with her father, who became a single dad after her mom passed away, Kitty, and Margot, her older sister who was leaving for college.
Long distance relationships are difficult to manage, so it was best thought that Margot and her boyfriend Josh split up. This would not be such a large issue, except Josh just happened to receive one of the heartfelt notes from Lara.
At the same time, a guy named Peter had also just broken up with his girlfriend and took the fact that Lara had a thing for him to his advantage. He pretended to date her to make his girlfriend jealous enough to take him back.
According to Izzy Hagenbuch, "…the movie was ok but the book had a bunch of other scenes that the movie missed. the book had more scenes with josh in them and the movie was more focused of peter. i feel like in the book i just pictured everything in a different way then they did it in the movie, but the movie was still pretty good."
Although I personally have not read the books myself, I'd have to say the movie fantastically portrays the most perfect accident to happen.
In either form you prefer, "To All The Boys I've Loved Before" is the ideal way to experience teen romance at its finest.

About the Writer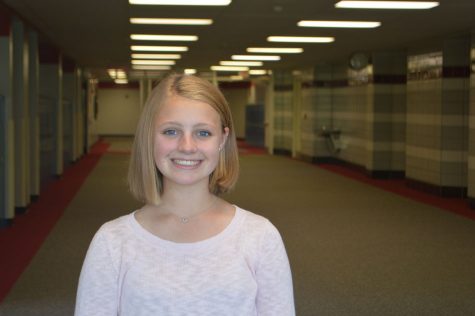 Emily Panczyk, Reporter
Emily Panczyk is a freshman at Palatine High School. Along with being involved in Cutlass, she's a member of Varsity Poms and plans to join Student Council...