Palatine Pink Out is a success
Pink Out marks breast cancer awareness this week and it's the theme for Friday Oct 11 , during the football game. Many staff and students that  are supporting it, either have or seen someone that was affected by the cancer. 
"Well, I have a T shirt because I'm a volleyball coach." Coach Joyce Richardson said. "And we are doing a volley for the Cure match tonight at Hoffman Estates High School."
Many sport teams are supporting the Breast Cancer Awareness , not only to showto show support , but to gain motivation and to let cancer victims know  they're not alone. 
"We know a bunch of women that have worked here, in high school or outside of Palatine school that have been affected by breast cancer," Richardson said. 
Many students on Friday supported Pink out, from items that were sold during lunch period to some items from their own making , like small ribbons draws on their faces and backpacks decorated with pink.  
"I have known some people that suffered from breast cancer so I wanted to support in any way that I could" Steve Hong, a teacher in ESL department, said. "I think it's a great idea and it's encouraging to see so many people help support, even if they personally have not been affected or close to breast cancer. Palatine students make such an effort to bring awareness to their classmates, and this goes a long way to help."
The Service club made a fundraising for breast cancer awareness and will donate it to the American Cancer Society, last year they reached around $6000. This year they were able to sell over 600 items , additionally some pink sunglasses, headbands, wristbands and bandannas. Their goal is to keep the awareness going on. 
The support of Breast Cancer Awareness put an impact on Palatine High School , from buying the most expensive to buying the least expensive, each individual helped in a way, every small detail matters.
About the Contributor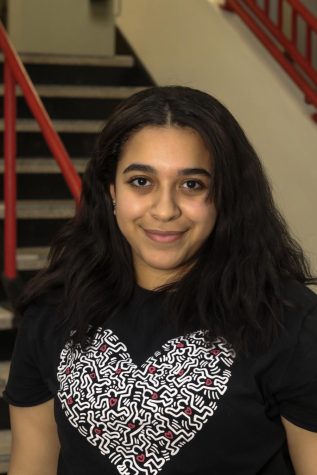 Hind Souhail, Reporter
Hind Souhail is currently a sophomore at Palatine High School and she came from Morocco during summer. She first joined Student council as her first experience...