Friday, Oct. 27: The day that emotions unraveled, and some high schoolers suited up for the last time. An emotional night, because Palatine's football and soccer organizations were both defeated in their respective playoff battles. 
Although it's over, fans, families, and the athletes themselves are going to have forever memories engraved into their life. Let's take a dive into the remarkable seasons. 
Palatine football finished a tough schedule with a playoff berth, thanks to their 6-3 record. The pirates met #7 Barrington, #8 Maine South, and St. Charles North all on the road in the regular season. Those matchups proceeded to be the only losses on the resume. 
"This season was a little rocky," running back Jesse Blake said. "It was upsetting how we went out but we just need to come back next year and win more games."
On the bright side, Palatine had their second consecutive year of being undefeated at Chic Anderson Stadium. Dominik Ball also broke the school record for career rushing yards in week 9 against Schaumburg. He finished 1st in the MSL West in rushing yards and TD's. 
Jesse Blake and D'mitry Smith both have their focus on next season, as they are both currently juniors.
"Next year, we're all almost going to be playing as seniors," defensive lineman Smith said. "We're going to have better team chemistry and we are going to play better."
Palatine football lost in the 1st round to Neuqua Valley, by a score of 31-17 on the muddy Naperville night. 
Although football was much more attended in general, many came to the Palatine Sectional championship to cheer on the boys soccer squad on the Friday that ended up being the last game for both teams. 
Palatine Soccer shattered records and scorelines in their historic season, finishing with 20 wins, 3 draws, and only 1 loss.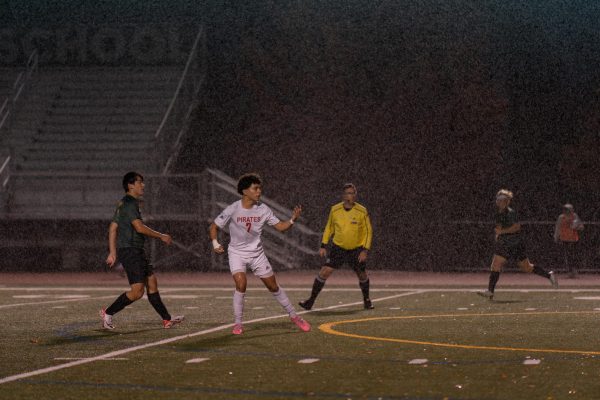 "I think that if you told me before this season we'd only have one loss, I would think you're crazy," Damien Drzewiecki said. "The way we went out was disappointing, but I think we still have to be proud of what we did all season."
They accomplished many accolades they had never succeeded in, or did too long ago. They were champions in the Wauconda tournament for the first time, as well as won the MSL Championship for the first time since 2012, doing so against Buffalo Grove. 
Palatine is graduating their 3 top scorers in Noga, Khoury, and Atanassov as well as all their all-conference nominees. Matches will have a harder difficulty on the Pirates, but junior goalkeeper Alex Ganji knows the recipe to success. 
"We might lose some games but we need to learn to keep our heads up," Ganji said. "We need to prove in the playoffs that we can be competitive."