Hamilton resonates with students
Hang on for a minute...we're trying to find some more stories you might like.
On Nov 15, 2017, 100 PHS students and several teachers received the opportunity to watch the amazing Hamilton: An American Musical in Canadian Imperial Bank of Commerce theatre.
Liza Sullivan, a US History teacher, had won these tickets from an organization called Gilder Lehrman Institute of American History. Gilder Lehrman's goal is to provide students, who normally would not have the chance to see this expensive show, with a chance to go.
To get a ticket, each student had to perform a 2 minute act/rap/poem about a major event in US history for their class. Their US teachers then gathered and discussed who could go, giving the top 100 (out of nearly 430 students) their prize!
"I couldn't believe it," junior Cielo Vargas said.  "I thought they were joking" when she found out that she had won.
In the CIBC theater, this showing of Hamilton was funded by Gilder Lehrman and partner organizations for high schools. Students arrived, filled up the theater, and watched student performances. These student performances were the best out of all the attending high schools.
One of the most notable performances, as noted by a PHS student, was a comedy entry featuring a young lady who performed Benjamin Franklin, Samuel Adams, and another founding father discussing how to retaliate against the British for imposing taxes on their tea through comedic voices, and masculine body language.
This prelude created an excitement in the crowd, leading to the main event: Hamilton: An American Musical.
"The musical was so amazing and moving," junior Sam Dickerson said. "I cried through most of the second act and didn't stop until we got on the bus. As someone who normally doesn't care about history, I wasn't sure I'd even like it, but I was so moved by it. It was absolutely amazing."
Most of the students are extremely grateful for this opportunity. With a little research, one can find out that the cheaper tickets can be anywhere from $150 to $300 (depending on the date) in CIBC theater. And yet, Gilder Institution and its partners provided Palatine High School, and many others, free tickets for students to earn.
Thanks to Gilder Institution and thanks to Liza Sullivan for giving the students this opportunity.

About the Photographer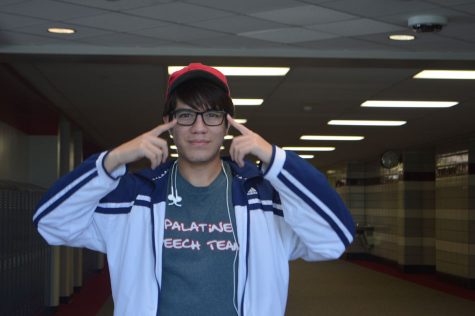 Edwin Perez-Hernandez, Photographer
Edwin is better than okay. Not great, but still up there. He has some interest like editing and photography. He is currently in the speech team and has...